Nine facts about Norwegian agriculture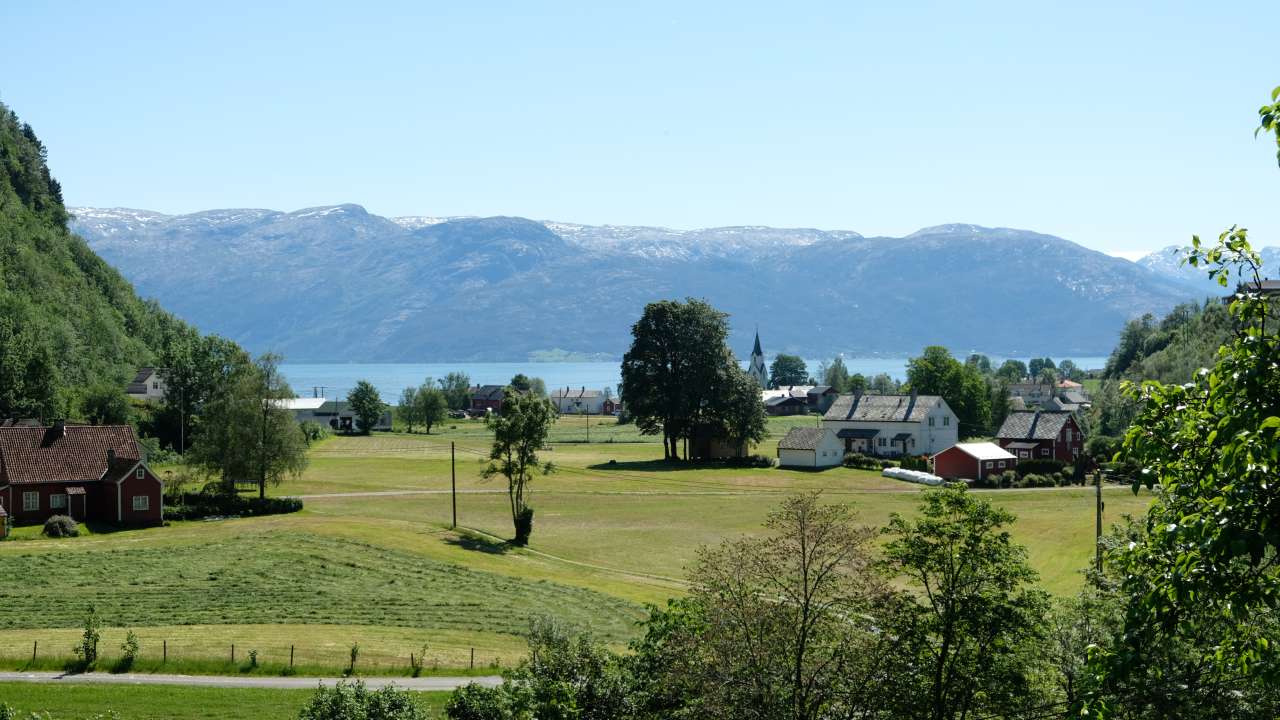 Today, the average Norwegian drinks 89 litres of milk each year. 30 years ago, the amount was almost twice as much. Norwegians consume 18 kilograms of cheese, and 67 kg meat. This is five kg more cheese and almost 20 kg more meat than in 1988. The total organically farmed area is decreasing, whereas the demand for organic produce and other foods is steadily increasing.
These are numbers and examples from the 2019-edition of NIBIO's yearly publication «Norwegian Agriculture – Status and Trends» which provides an overview of major aspects of agriculture in Norway. The publication is a compilation of various statistic information that in summary presents status and trends within the Norwegian agricultural sector.

As an introduction, it may be useful to take a look at the distribution of Norwegian agriculture's total gross output between various farm commodities. Total gross output as normalized earnings for 2019 is NOK 34,4 billion, excluding direct subsidies: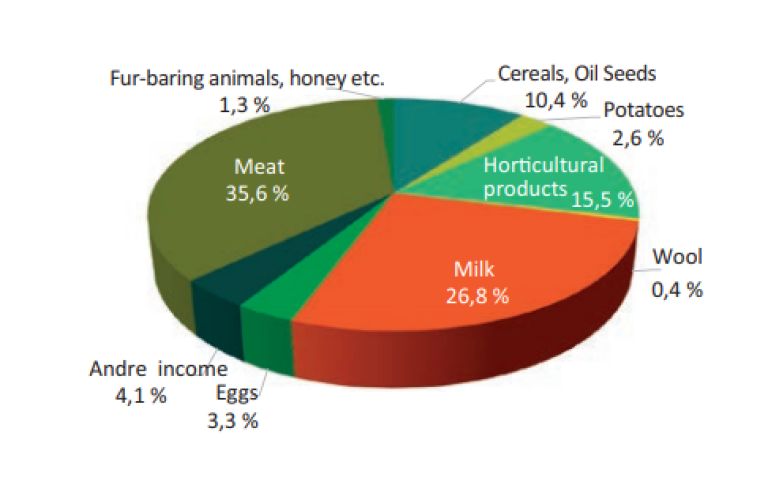 Status presented through nine facts
1 – Number of farms reduced by 50 percent in 30 years
For the past thirty years, from 1989 to 2018, the number of agricultural holdings has declined from 99,400 to 39,600.

The total agricultural production in Norway is concentrated on continuously fewer holdings, albeit with no reduction in overall production volume. Another important structural development in Norwegian agriculture is the substantial decline in the number of livestock farms.
2 – Farm sizes are expanding
The average farm size in 1999 was 14.7 ha. In 2018 this average is 24.9 ha.

The average farmland acreage on farms still in operation is steadily increasing.
3 – Rented land is important
Approximately 45 percent of total farmland acreage in 2018 was rented land.

Rented land has been of growing importance in the years post World War II. Larger farm holdings is part of the explanation, i.e. more expansive areas for production are needed than the farm naturally holds.
4 – Reduced consumption of milk
From 1980 to 2018, Norway's dairy cow population has declined from 391,000 to 217,500 .

This decline is due to a general fall in milk consumption and thus, the total production of milk. In 2018 the consumption of milk per capita was 89 litres per person – 88 litres less than in 1988. Since 2000, milk yields per cow have been increasing, whereas the total milk production in the same period has been fairly stable, with an annual output of approx. 1,500 million litres.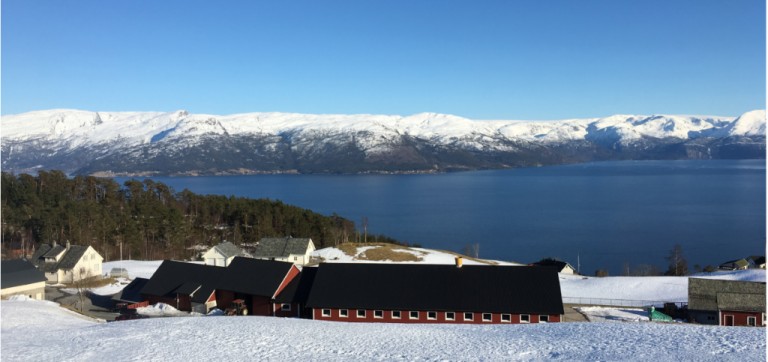 5 – Consumption of meat has doubled in 40 years
The annual consumption of beef, veal, lamb, mutton, pork and poultry was at an all-time high in 2017 at about 370,000 tons in total. This is about twice the amount consumed in the early 1980s, although the increase per capita is somewhat lower. Pork has the highest consumption - 25.5 kg per capita.

The overall consumption of meat per person was 67 kilograms in 2018, approximately 20 kg more than 30 years ago. In 1988 the average meat consumption per person was 48 kg. From 1988 to 2018, the annual consumption of poultry increased from 4,5 kg to 18,5 kg per person.
The production and consumption of meat in Norway has been steadily increasing for the past 30-40 years, especially due to an increase in poultry meat consumption. Consumption of poultry peaked in 2013, and has slightly declined since, reaching around the same level as beef consumption in 2018.
Focus on nutrition and food safety issues can potentially cause considerable variations in meat demand. As an example, publicity regarding the use of antibiotics (Narasin) in poultry feed led to a considerable drop in chicken consumption in 2014 and 2015.
The pig population varies somewhat from year to year. In periods of market imbalance of pork, various measures are implemented in an attempt to stabilize the market. The forecasts for 2020 indicate an expected surplus of pork in the Norwegian market.

6 - Lamb/sheep = weak economy
Norway's sheep population increased by 9 percent from 2014 to 2017, following measures to stimulate production.
This resulted in overproduction, reduced profitability and a decline of the sheep population by 12 percent in the years after 2017. Many smaller sheep farms have gone out of business in connection with farm succession.

7 – Import-dependency
Consumption of fruit and berries was nearly 120 kg per capita in 2018. Norwegian produce amounted to roughly 30 kg of these.
Due to the climatic limitations for fruit production, most of the fruit and berries consumed in Norway are imported.

8 – Organic paradox
From 2012 to 2018 the total area of organic farming has decreased by 16.7 percent. The demand for organic food, however, has increased within the same time frame. From 2017 to 2018, sales of organic goods through food retailers increased by 8 percent.
In 2018, there were 2,057 certified organic farms, 533 fewer than in 2012. About 41,800 ha were farmed organically in 2018, equivalent to 4.2 percent of Norway's total farmland. The Trøndelag region has most organic farms, however it has also experienced the greatest decline.

9 - 1 % owns 1/3 of all forest resources
About 39 percent of Norway's total land area is covered by forests, 12.6 million ha in total. The forest area includes forests both above and below the coniferous forest line. Approximately 8.3 million of these hectares is productive forest. This area corresponds to 25 percent of the country's land area.
One percent of the total number of forest owners, 1,200 of 127,000, has ownership to 1/3 of Norway's productive forest land. 84 percent of all forest estates are privately owned.
Norwegian forestry is increasingly becoming a pure source of capital income for forest owners. Approximately 90 percent of the sold timber volume was cut and delimbed by logging machines. On 32,230 forest estates, forest operations were combined with farming activities in 2016.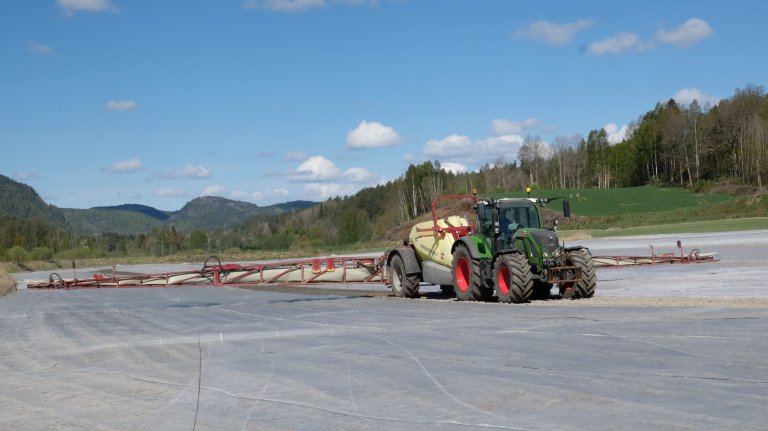 Agriculture in Norway
It is said that topography, geology and biology make out the foundation for plant production, whereas climate and geography determine crop types according to location, along with expected yields.
"Norway has a marginal production area for many important crops, and is one of few European countries that cannot grow sugar crops," agricultural economist Heidi Knutsen explains.
Knutsen is the editor of the small, yet copious, annual «Norwegian Agriculture – Status and Trends.»
When talking about Norwegian agriculture, one should keep in mind how far north the country is situated. Some parts of the country are considered to be arctic areas, which renders agriculture at the realm of what is possible. Heidi Knutsen continues:
"Due to Norway's climate, grain yields per hectare are lower than in most other countries in Europe. In many parts of Norway, growing fodder crops, mainly grass, is more or less the only alternative.»
Grass-based livestock production is therefore the backbone of Norwegian agriculture. A substantial part of the country's home-grown grain is used as fodder due to crop quality.
One of the advantages of the cool climate is that it limits the spread of plant diseases and pests.
These climatic and geographical conditions frame Norwegian agriculture. Soil, latitude and climate – they are all interconnected.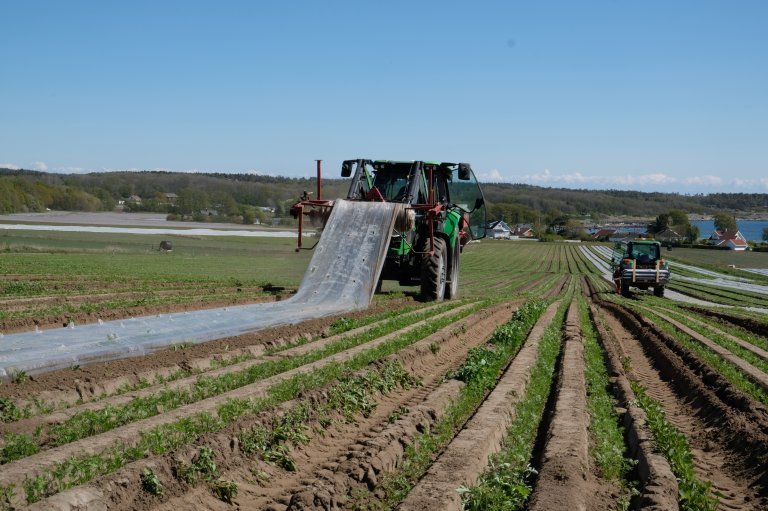 Dairy production – of core economic value
Being a country where growing fodder crops like grass often is the only option. Grass-based livestock production is the backbone of Norwegian agriculture. This explains why the dairy cow has become the most important agricultural production. The dairy cow is the basis for milk, meat and, together with grazing sheep, the up-keeping of the Norwegian agricultural landscape – such as we know it.
However, the times are changing, both for the dairy cow and the dairy farmer. Yield per cow has never been higher, nor has the competition. Import of cheese and other dairy products is higher than ever, and the no-meat wave is spreading among consumers.
The Norwegian dairy cow will probably have to adjust to the changing times – like so much else. Reduction of greenhouse gas emissions, and what to use as fodder with an aim to reduce soya import and put more of Norway's own grass-resources to use are examples of issues which have recently arisen.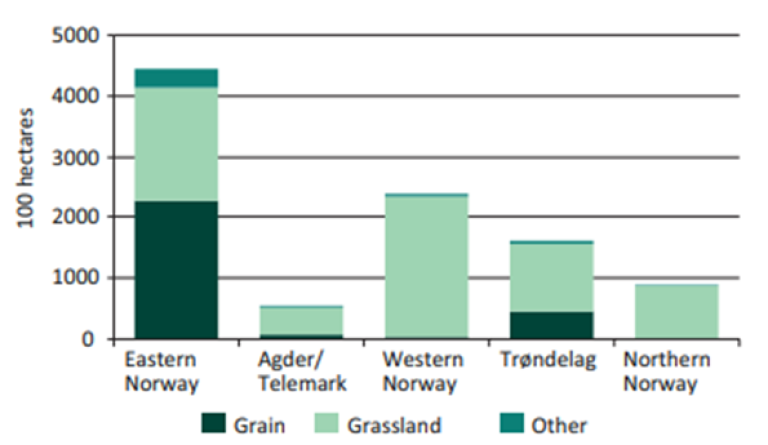 «Efficient by nature»
Due to reasons as mentioned above, Norway is, by nature, not laid out for agriculture. Nevertheless, farming productivity has been steadily increasing when compared to the amount of resources put to use.
Even within the same agricultural area and with fewer man-years at work, the production volume has increased or been stable – which means increased efficiency. Various forms of capital now substitute labour.
Contacts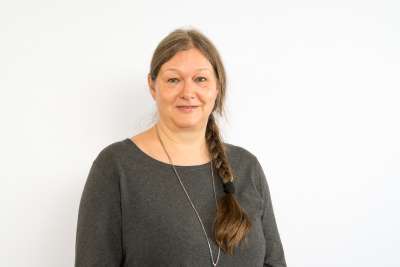 FACTS ABOUT NORWEGIAN AGRICULTURE
Only 3 percent of Norway's total land area (excluding Svalbard and Jan Mayen) is farmed land. Of the 3 percent in agricultural use, only a smaller part is located in areas where climatic conditions are suitable for growing cereals for human consumption.
39 percent of the land area in Norway is covered by forests.
By comparison, industrial and built-up areas account for 0.5 percent of the total land area. According to The Budget Committee for Agriculture, the total agricultural area in Norway was 0.986 million ha in 2018, of which approx. 0.806 million ha was arable land.
From 2004 to 2015 almost 10 000 ha of Norwegian agricultural land was sealed.
71 percent of the sealed land had topsoil of the best quality, little slope of the terrain and ability for high yields.
More than 2/3 of the sealed agricultural land, 69 percent, was in, or within 3 km from, a city centre.
It is a political goal in Norway to reduce the yearly loss of agricultural areas to soil sealing. The current maximum limit is 400 ha per year for Norway as a whole.
Gross product
The national gross product for agriculture and the food, beverage and tobacco industry in 2017 was NOK 16.1 billion and NOK 45.7 billion, respectively.
Total agricultural employment in Norway in 2017 was 45,890 persons, compared to 52,900 persons in the food, beverage and tobacco industry.
The gross product for agriculture accounted for 0.6 percent of Norway's total national gross product, whereas the agricultural sector employed 1.7 percent of employed persons in Norway.
Gross product (GP) and employment are here used as indicators for the regional importance of agriculture and the food industry.

Regional data for 2017 show that Rogaland (in the southwestern part of Norway) was Norway's main farming county, both in terms of gross product (NOK 2.19 billion) and employment (6,270 employees).
However, in terms of relative importance for a county's gross product and employment, agriculture is most significant in Nord-Trøndelag (the region north of Trondheim). Here, agriculture accounted for 3.0 percent of the county's total gross product and 5.7 percent of its total employment.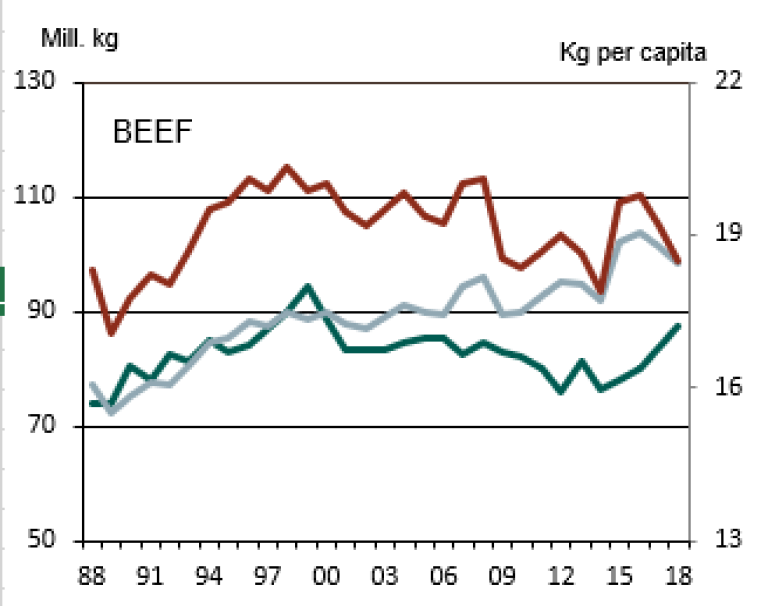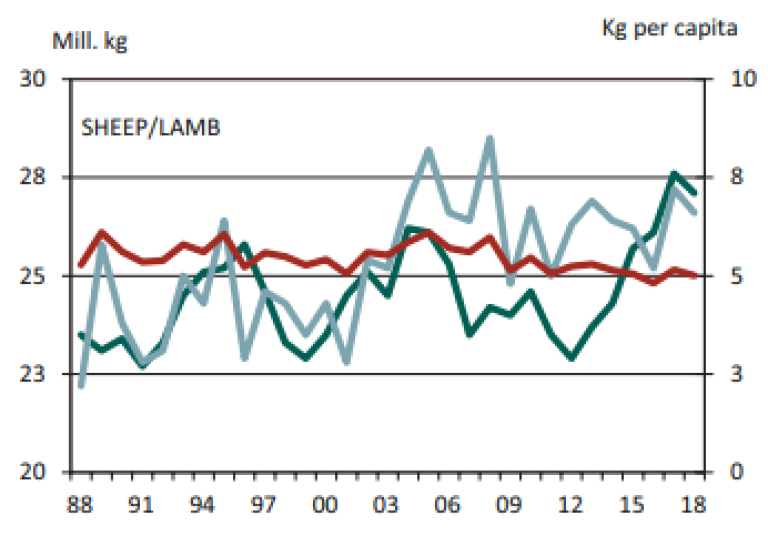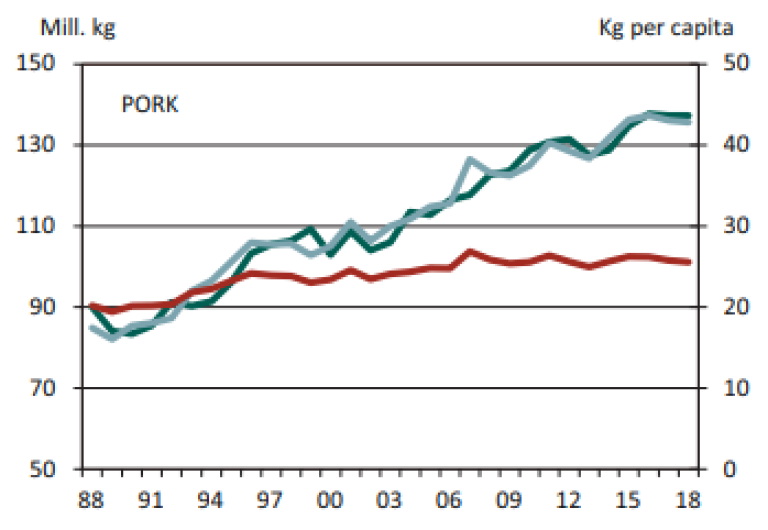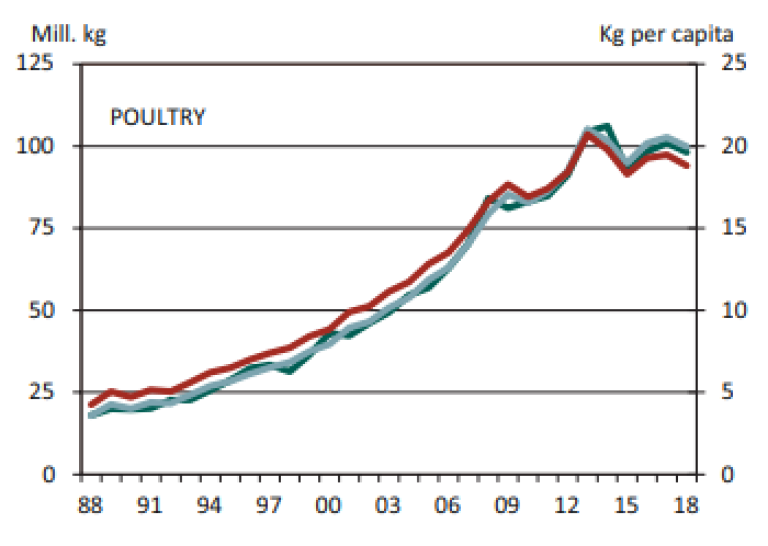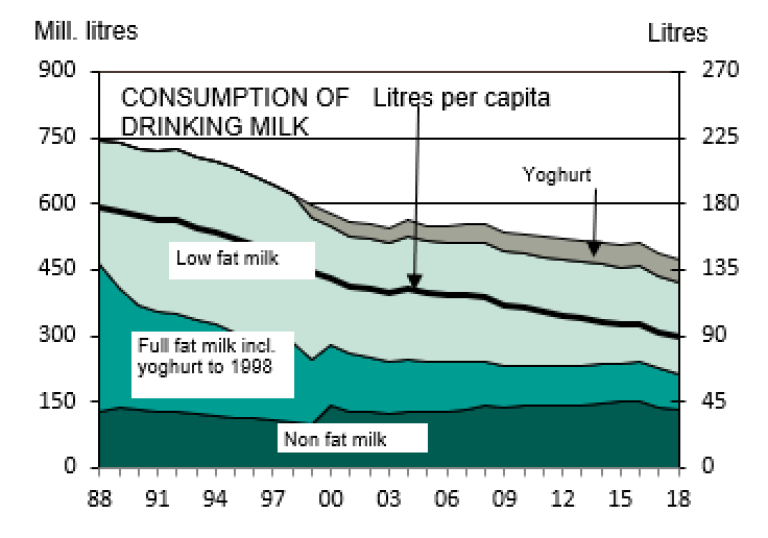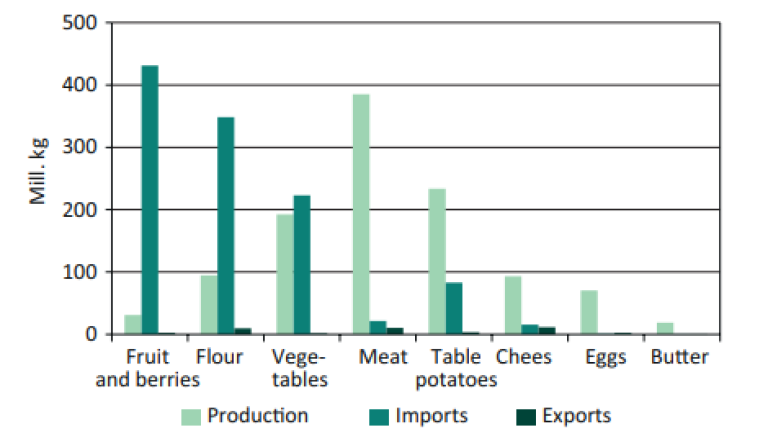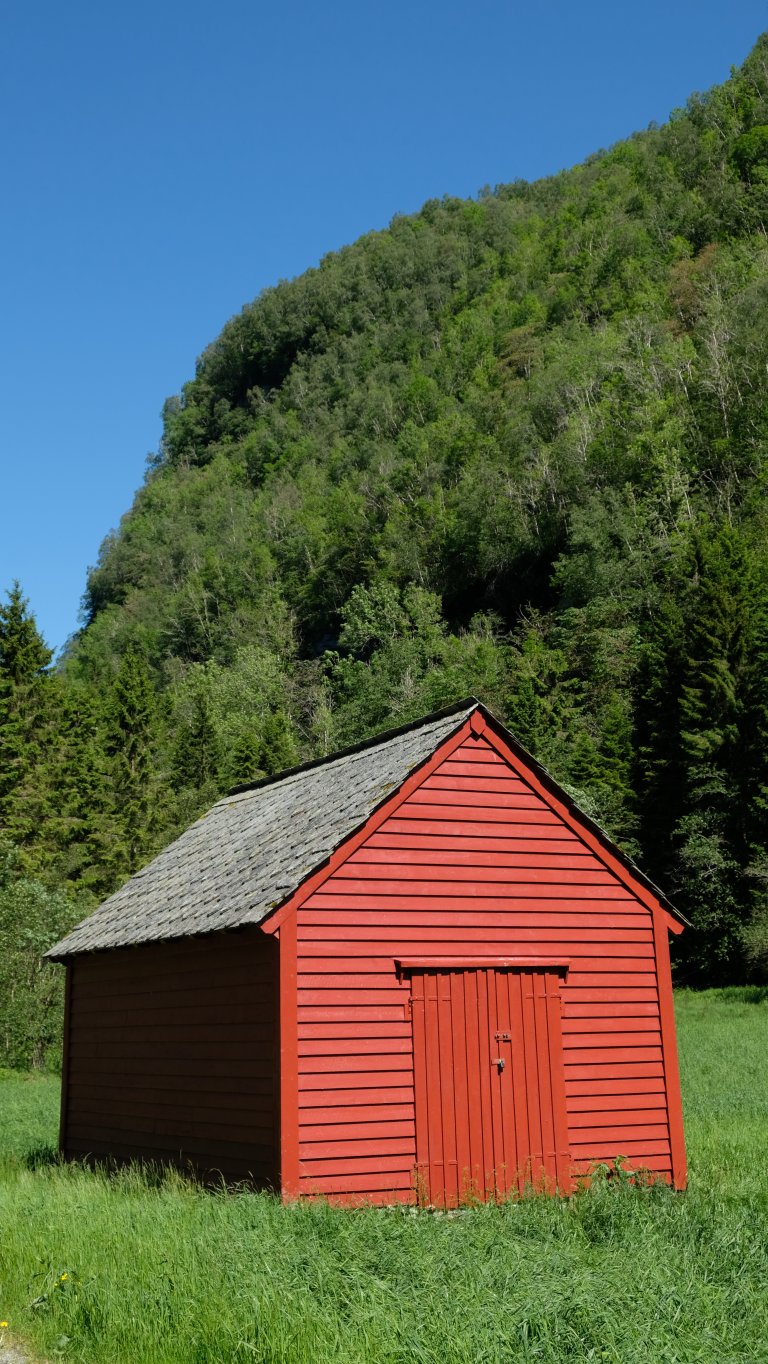 The Norwegian Model
The basic agricultural agreement and annual agricultural negotiations
The Basic Agricultural Agreement provides the mandate for the annual negotiations and specifies the scope and the parties of the negotiations
The Budget Committee for Agriculture prepares the parties' joint background material for the negotiations (ca. April 10th )
Demands put forth by the farmers' associations (late April)
Offer made by the Government (early May)
Negotiations
Agreement (or breach of negotiations) before ca. May 15th
The Storting (Parliament) approves the agreement in June
Abstract
«Norwegian Agriculture – Status and Trends 2019» provides a brief overview of major aspects of agriculture in Norway and summarises some of the information that is annually published within the sector.