National soil organic carbon monitoring — We have started!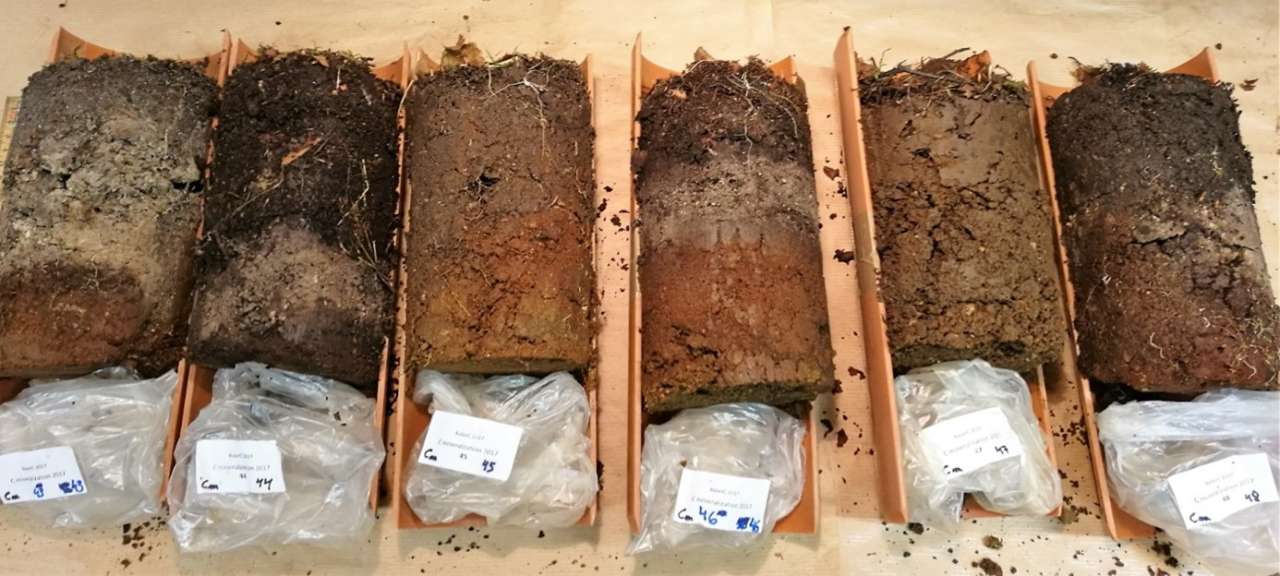 Seventy percent of carbon on land is stored in boreal forests — and much of this is in the soil.
As the effects of climate change become more obvious, there has been increasing awareness of carbon and carbon storage in vegetation and soil. Approximately 70% of carbon that is found on land is stored in boreal forests. Overall, two to three times more carbon is stored in the soil than is found in the atmosphere. Forty percent of all carbon stored on land is stored in the forest soil.
Thus, our forest ecosystems, including both the vegetation and the soil, are important carbon stores. In Norwegian forests, we expect to find approximately twice the amount of carbon in the soil compared to the living vegetation.
The balance between supply and decomposition is key – what will the future hold?
The amount of carbon in the soil is determined by the balance between the supply of organic material, such as leaves and needles that are shed by trees, and the decomposition of this material by micro-organisms. Temperature is one of the most important factors with regard to both plant growth and the decomposition of organic materials in our ecosystems. Earlier springs, later autumns and milder winters can mean that the soil's organic materials decompose faster than before.
At the same time, a warmer and, perhaps, wetter climate could mean that plant growth and the production of organic materials increase; this may help to partly or completely balance any losses in the soil's carbon stores.
Global studies show a relationship (correlation) between the increased decomposition of organic materials in the soil and global temperature changes between 1987 and 2016. This applies across the northern ecosystems in particular. We can expect, therefore, that our ecosystems, with lots of dead organic material and expected annual temperature increases in the coming years, may be vulnerable to a loss of SOC. It is not known how vulnerable the SOC is and how great these losses might be, and this is what we wish to investigate.
National monitoring of SOC started in 2023
In 2022, NIBIO was tasked with developing a system for verifying changes in SOC in forests and grasslands as defined in the national greenhouse gas inventory. Soil sampling has taken place since field season 2023.
Samples will be taken from all plots in the intensive grasslands category (approximately 300 sample plots) and a systematic selection of plots in forests (approx. 3,000 sample plots).
This will take place over two 10-year cycles with the annual collection of samples in intensive grassland and forest from approximately 30 and 300 sample plots respectively. That means that during the first decade (2023–2032), the first round of samples will be taken from all plots, and during the next decade (2033–2042), the sampling will be repeated in order to obtain figures relating to changes.
The monitoring programme will give us more information about SOC levels and any changes that take place over time.
First and foremost, the programme should help to improve Norway's greenhouse gas inventory — but we will also be creating important research infrastructure
The programme should firstly reveal how much SOC is being lost or accumulated over time in forests and grasslands throughout Norway. This work should help to improve the Norwegian greenhouse gas inventory over time, and the data will be essential for evaluating the model-based estimates that are currently used for reporting land use and land-use change and forestry (LULUCF) under the United Nations Framework Convention on Climate Change (UNFCCC).
The monitoring of SOC will give us a national estimate of storage and changes in SOC in both forests and grasslands. At the same time, the goal is to ensure that, to a certain degree, the methods used in the field allow us to group the data and thereby study both storage and changes in specific types of forests, soil types or geographic areas.
A whole range of specific field and laboratory measurements are required to calculate SOC. These will, in addition to essential measurements for carrying out quality assurance and making evaluations, be given priority in the programme.
At the same time, we are aiming toward a system where the pretreatment and storage of samples will make it possible to do additional analyses at a later time. Analysis of biological material (DNA) for the purpose of studying changes in the biodiversity of soil communities is one example.
Similar systems can be found in the Swedish Forest Soil Inventory and in the European LUCAS (Land Use and Coverage Area Frame Survey) programme.
In the development of the monitoring program, there is an emphasis on quality control and quality assurance in all steps of data acquisition.
The Norwegian Ministry of Agriculture and Food is funding the programme.
If you would like to know more about soil, carbon storage and climate change, the scientific articles that we have referenced here may be helpful:
Bond-Lamberty, B., V. L. Bailey, M. Chen, C. M. Gough and R. Vargas, 2018 Globally rising soil heterotrophic respiration over recent decades. Nature 560: 80-83.

Bond-Lamberty, B., and A. Thomson, 2010 Temperature-associated increases in the global soil respiration record. Nature 464: 579-582.
Lei, J., X. Guo, Y. Zeng, J. Zhou, Q. Gao et al., 2021 Temporal changes in global soil respiration since 1987. Nature Communications 12: 403.
Lugato, E., J. M. Lavallee, M. L. Haddix, P. Panagos and M. F. Cotrufo, 2021 Different climate sensitivity of particulate and mineral-associated soil organic matter. Nature Geoscience 14: 295-300.
Mayer, M., C. E. Prescott, W. E. A. Abaker, L. Augusto, L. Cécillon et al., 2020 Tamm Review: Influence of forest management activities on soil organic carbon stocks: A knowledge synthesis. Forest Ecology and Management 466: 118-127.
Pan, Y. D., R. A. Birdsey, J. Y. Fang, R. Houghton, P. E. Kauppi et al., 2011 A Large and Persistent Carbon Sink in the World's Forests. Science 333: 988-993.
Scharlemann, J. P. W., E. V. J. Tanner, R. Hiederer and V. Kapos, 2014 Global soil carbon: understanding and managing the largest terrestrial carbon pool. Carbon Management 5: 81-91.
Contacts