Coffee husk mulch in strawberry beneficial for biological control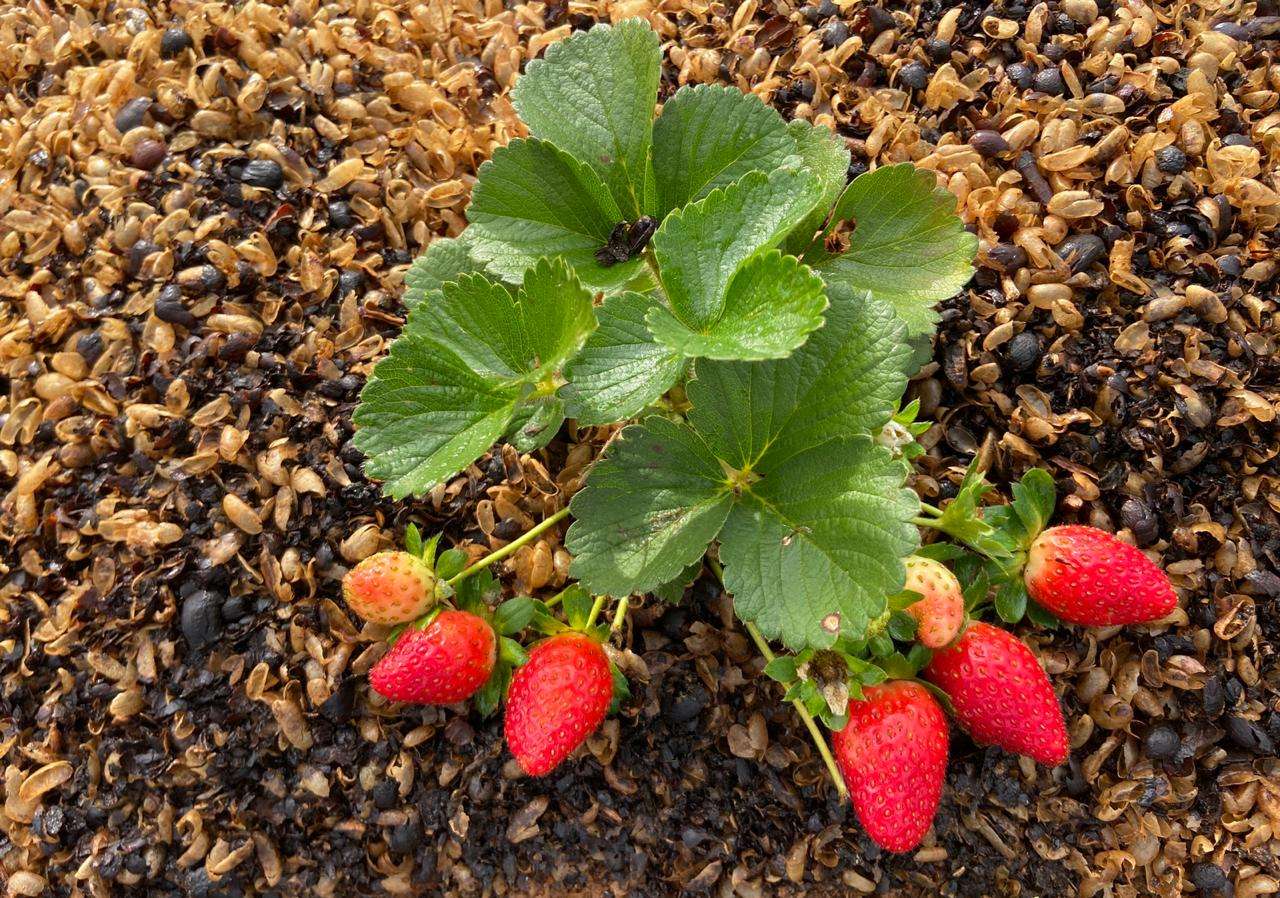 Brazilian scientists have discovered an unexpected benefit from using coffee pulp mulch to protect strawberries: The number of beneficial mites and fungus increased significantly in the field. A greater amount of mite species were also observed when using straw mulch in Norway.
Plastic and straw are used to cover the ground in strawberry production for protection against weeds, erosion, and moist soil. In Norway, straw is utilized on about half of the areas with open-field strawberries. In some areas, both plastic and straw are used.
Until now, Brazilian strawberry farmers have used plastic as mulch. However, inspired by the extensive use of straw in Norwegian strawberry fields, Brazilian researchers have carried out trials in which the use of plastic was compared to a type of organic mulch readily available in Brazil: coffee husks. This is a by-product from coffee production made from coffee bean shells.
The results, presented in the PhD-thesis of Dr Fernanda Esteca from Sao Paulo University whose work has been linked to the integrated pest management (IPM) project SMARTCROP at NIBIO, showed that covering the ground in a strawberry field with coffee pulp mulch led to more predatory mites and fewer spider mites in the strawberry plants than when plastic was used for ground covering. The coffee pulp mulch also led to a higher infection pressure of a beneficial fungus which kills spider mites. The two-spotted spider mite is considered a significant pest in Brazilian strawberry production.
Based on the Brazilian results, Esteca visited NIBIO to conduct trials in Norway on whether straw use may have the same effect, being a good habitat for various species of predatory mites in a strawberry field.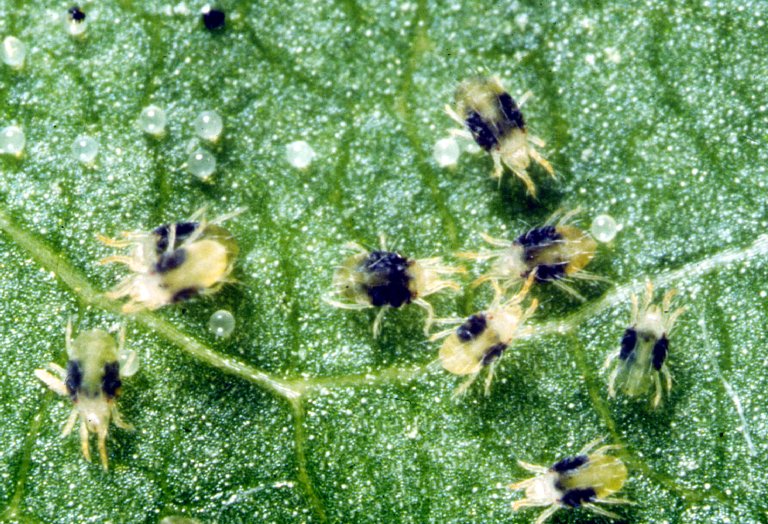 Better for economy, environment and biological control
The interest in utilizing biological control in strawberry production has increased in Brazil, due to the high market demand for pesticide-free berries, as well as the problems that the indiscriminate use of chemical products have generated.
- There is a need to integrate other management methods, especially biological control, says Fernanda Esteca.
Her thesis titled "Environmental management strategies for pest control in strawberry crop", presents the effect coffee pulp mulch in strawberry fields in Minas Gerais in Brazil has on pest control. She also carried out a similar study on straw use in strawberries in Norway in collaboration with NIBIO.
About 50% of the strawberry consumed in Brazil is produced in the south of the state Minas Gerais, approximately 82 000 tons annually. However, diseases and pests are considered a serious problem in strawberries, Esteca comments.
- In Brazil, plastic is the most common mulching material used in strawberry production, and there is little access to straw to replace plastic for this purpose, says Esteca.
The Brazilian studies started when the researcher Professor Gilberto de Moraes, one of Estecas's supervisors, had been inspired by the use of organic mulch in Norway, and wanted to test something similar in his homeland. Minas Gerais is one of the most important coffee producing regions in Brazil, and therefore it was natural to choose coffee pulp, a by-product from the coffee production, as mulch.
-This material is available in big quantities and not expensive, so it is good economy for the farmers. Some coffee producers actually give it away for free, says Esteca.
In addition, Professor de Moraes had the idea of depositing the coffee husk mulch in forest soil fragment for a month before using in the field. The thought was that this would result in the establishment of predatory mites from the forest in the coffee-biproduct to help increase the number of predatory mites in the coffee pulp mulch that later was applied in the strawberry field.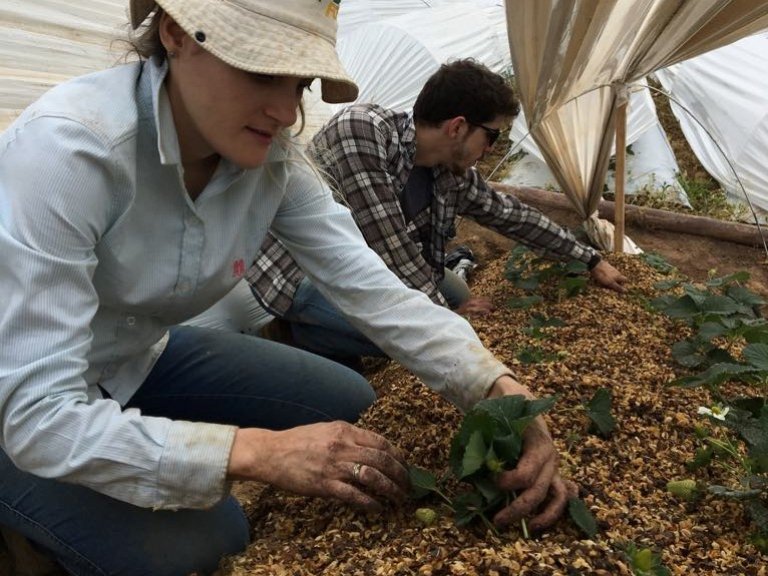 Active at night
In her PhD-study, Escera examined the coffee mulch for mites and saw that it did indeed increase the number of beneficial predatory mites but did not bring in any pest insects or mites.
- Organic mulch, which promotes high humidity close to the plant, seems to enhance the development of predatory mites. However, high humidity is harmful to the two-spotted spider mite, which prefers medium or low humidity. The high humidity in the coffee pulp mulch also led to a higher prevalence of a beneficial fungus that kills the spider mites, Esteca explains.
As a bonus, she also discovered that there were most predatory mites on the plants at night. These are naturally occurring predatory mites that live in the ground, but which venture up on the plants at night to eat spider mites.
- We could see it climbing up the stem at night, normally around 23.00 pm. Before conducting this study, we had no idea the mites had this behavior, says Esteca.
In addition to the positive effect of coffee pulp mulch on natural enemies, Esteca points out that using coffee pulp mulch also reduces the environmental impact due to reduced use of plastic.
- And to top it off, we found that strawberries grown with coffee pulp as mulch actually are sweeter tasting, contain more nutrients, and are bigger, she adds.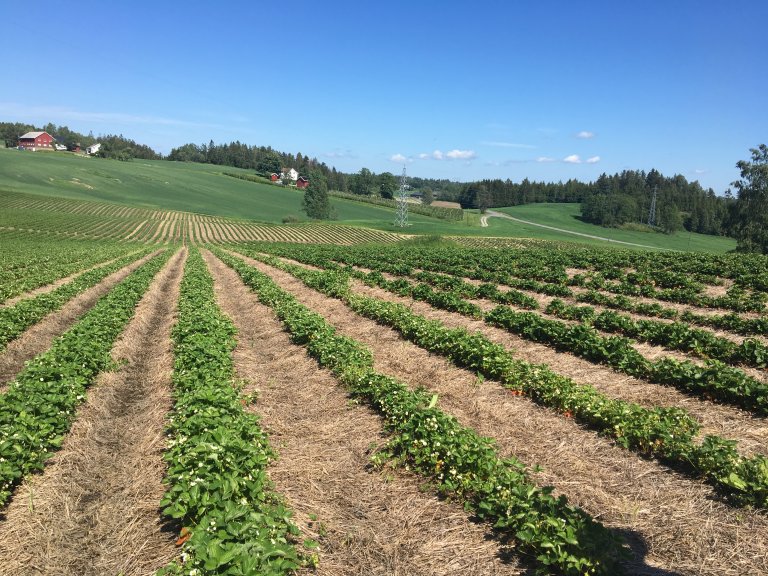 Similar positive results in Norway
On the basis of the Brazilian results, Esteca collaborated with scientists at NIBIO in Norway and collected straw from strawberry fields south of Oslo, to investigate whether straw is also a good habitat for various species of predatory mites in a strawberry field.
The results showed that the number of different species of predatory mites was much greater in the straw than in the soil under the straw. Straw seems to be a good place for various species of predatory mites to reside. No strawberry-damaging mites were found in either the straw or the soil.
There was also a tendency for more species of predatory mites in straw, which had been lying in the field for a 18 months rather than for 6 months. Both barley and oat straw were studied, and they had approximately the same mite fauna.
New species
To find out more about beneficial mites in straw, the soil in potted strawberry plants was covered with straw from the strawberry fields in Norway. The plants were grown in a climate room and were regularly examined for predatory mites and the pest mite, two-spotted spider mite.
- We made several interesting observations says Esteca. A total of 15 species of predatory mites were found on the trial plants during the study. Some of them have never been studied before.
- All 15 species of predatory mites, except for one, were mostly found on plants only at night. The only type of predatory mites that was found on the plants during the day only, was of the genus Anystis. No mites of any kind were found in the commercial potting soil used.
When the trial ended, the strawberry plants in pots with straw had on average 36 percent fewer spider mites than the control plants without straw.
Nina Trandem, scientist at NIBIO, says there are many different species of predatory mites, which are naturally occurring on the strawberry plants in the fields.
- These predatory mites appear to thrive in the straw cover, and some of them visit the strawberry plants once in a while, probably to eat spider mites and other small pests. Therefore, there is a greater possibility of biological control using straw than plastic. Plastic does not offer a good habitat for beneficial mites and also shuts off their migration.
- And to study this further we need to include night shifts in our research projects, I'm afraid, she adds.
Contacts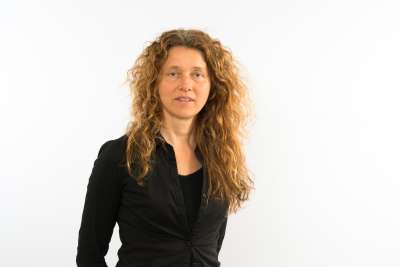 Biological control
Biological control is the use of natural enemies to control pests. According to Eilenberg and co-workers (2001) this can be done through four strategies: classical-, inoculation- inundation- and conservation biological control.
Classical biological control: The intentional introduction of an exotic, usually co-evolved, biological control agent for permanent establishment and long-term pest control'.
Inoculation biological control: The intentional release of a living organism as a biological control agent with the expectation that it will multiply and control the pest for an extended period, but not permanently.
Inundation biological control: The use of living organisms to control pests when control is achieved exclusively by the released organisms themselves.
Conservation biological control: Modification of the environment or existing practices to protect and enhance specific natural enemies or other organisms to reduce the effect of pests.