Division of Biotechnology and Plant Health
PlantStrength – Strenghtening the basis of sound plant protection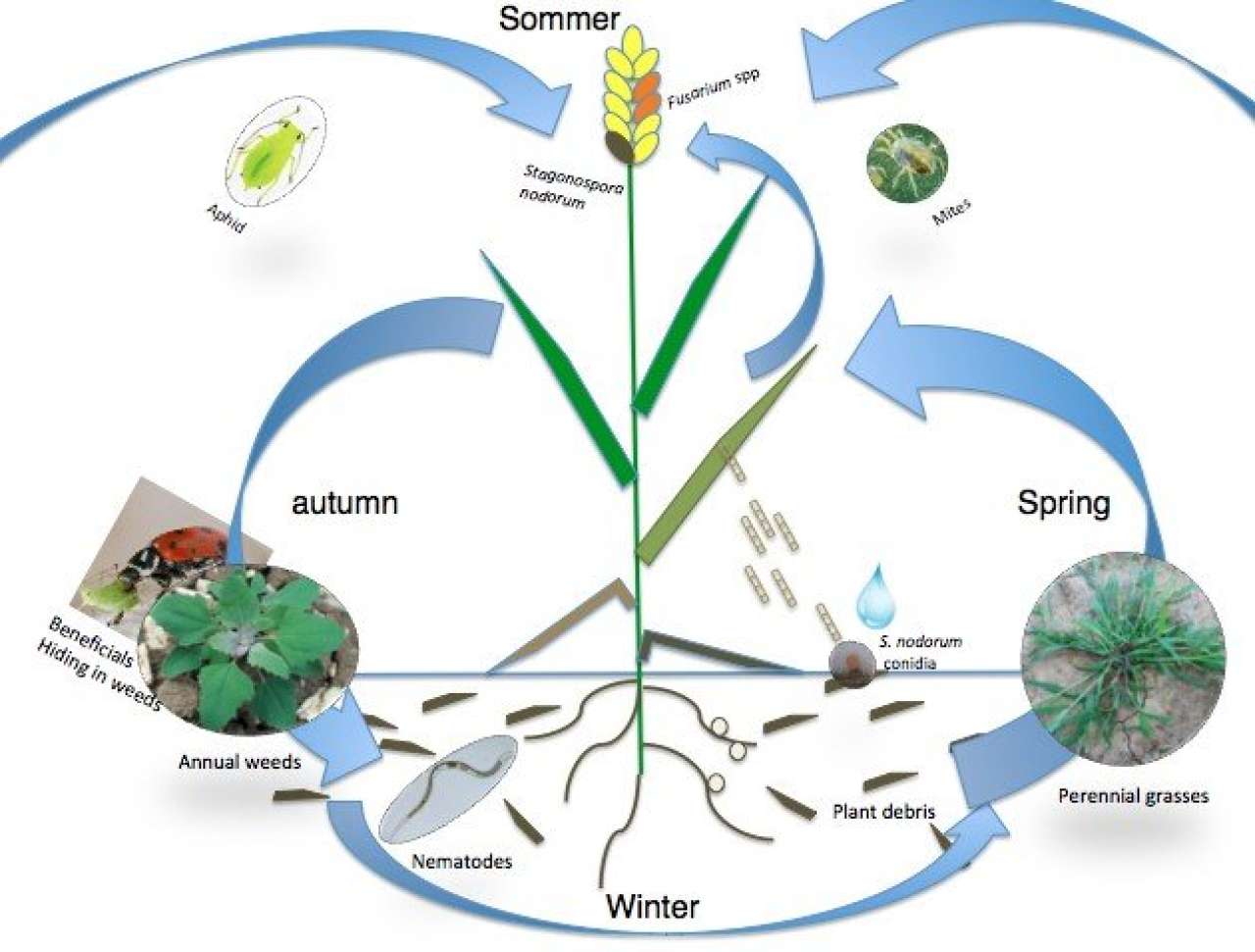 Finished
Last updated: 05.12.2022
End: dec 2016
Start: jan 2012
This strategic institute initiative aims to understand the interactions between plant pathogens, invertebrate pests, weeds and natural enemies to evaluate and improve management strategies for cereals under the current and future Norwegian climate. The work is divided in 3 work packages: WP1: The Fusarium-Oat system WP2: The Cereal pest syndrome WP 3: Simulation computer models.
Motivation
Modern plant health management depends on robust, integrated approaches to reduce yield loss in a sustainable manner. Climate change, limited access to effective plant protection products and a world-wide increase in food and fiber needs, require us toshift our focus fromsingle organism groups to the network of interactions within a crop
Interactions between pest groups, beneficial organisms, abiotic factors (weather variables and radiation) and crop plants forces us to communicate across disciplines and view crop protection in the wider context of multiple, interwoven processes.
We believe competence in this area is highly relevant for Norwegian agriculture and international research initiatives.
Research activities
Observation and interaction studies on Fusarium, susceptible growth stages of spring oat, inoculum sources of Fusarium: plant debris, soil and weeds, and ways of dispersal: aphids, aiming for increased knowledge on a severe mycotoxin agent in temperate Europe (WP1)
Observation and interaction studies on selected pest species of aphids, diseases, weeds and beneficial organisms using a winter wheat model system, aiming for increased knowledge on pests and their interactions as basis for integrated pest management tools (WP2)
Developing and programming computer pest models which on a daily basis simulates the interactions between i) pest organisms, ii) abiotic factors, iii) other pest organisms, iv) beneficial organisms and v) crop, aiming for increased knowledge on pest dynamics and establishment of pilot models for decision support systems (WP3)
| | |
| --- | --- |
| Start - end date | 01.01.2012 - 31.12.2016 |
| Project manager | Andrea Ficke |
| Division | Division of Biotechnology and Plant Health |
| Department | Fungal Plant Pathology in Forestry, Agriculture and Horticulture |
| Partners | International: - Harper Adams University College, UK (Simon Edwards) - Plant Research International – Wageningen, NL (Cees Waalwijk) - Cornell University, USA (Dr. D. Gadoury, Dr. G. Bergstrom) - INRA Toulouse, France (Dr. L. Willocquet, Dr. S. Savary). National: - The Norwegian Extension Services, Solør Odal, Viken, Sor Ost, Romerike. |
| Total budget | NOK 12 mill. |
| Budget this year | NOK 2.4 mill. per year |
Summary
Project management
Dr. Andrea Ficke (Project leader)

Dr. Ingerd Skow Hofgaard (Leader of WP1)

Dr. Ingeborg Klingen (Leader of WP2)

Dr. Therese W. Berge (Leader of WP3)
The major goal of the project is:
Interdisciplinary research on cereal pest groups to improve current decision support systems, design simulation models and establish multiple pest models in the future
Sub goals:
WP1: Oats: Identify key areas of Fusarium langsethiae epidemiology; sources of inoculum, ways of dispersal, susceptible growth stages and weather factors to design disease and mycotoxin simulation models.

WP2: Produce datasets and derive parameters needed to build models that can be used as decision support tools for reduced use of chemical pesticides in an Integrated Pest Management (IPM) system by using selected pest organisms and their natural enemies as a model system.

WP3: Build competence in developing, programming and implementing computer pests models relevant for sound pest management in cereals and other crops.
Master student thesis - possibilities
If you are a student interested in the topics of this project, please contact Andrea Ficke, Therese With Berge or Ingerd Skow Hofgaard