Division of Food Production and Society
FoodsecURe: Food security through better sanitation: the case of urine recycling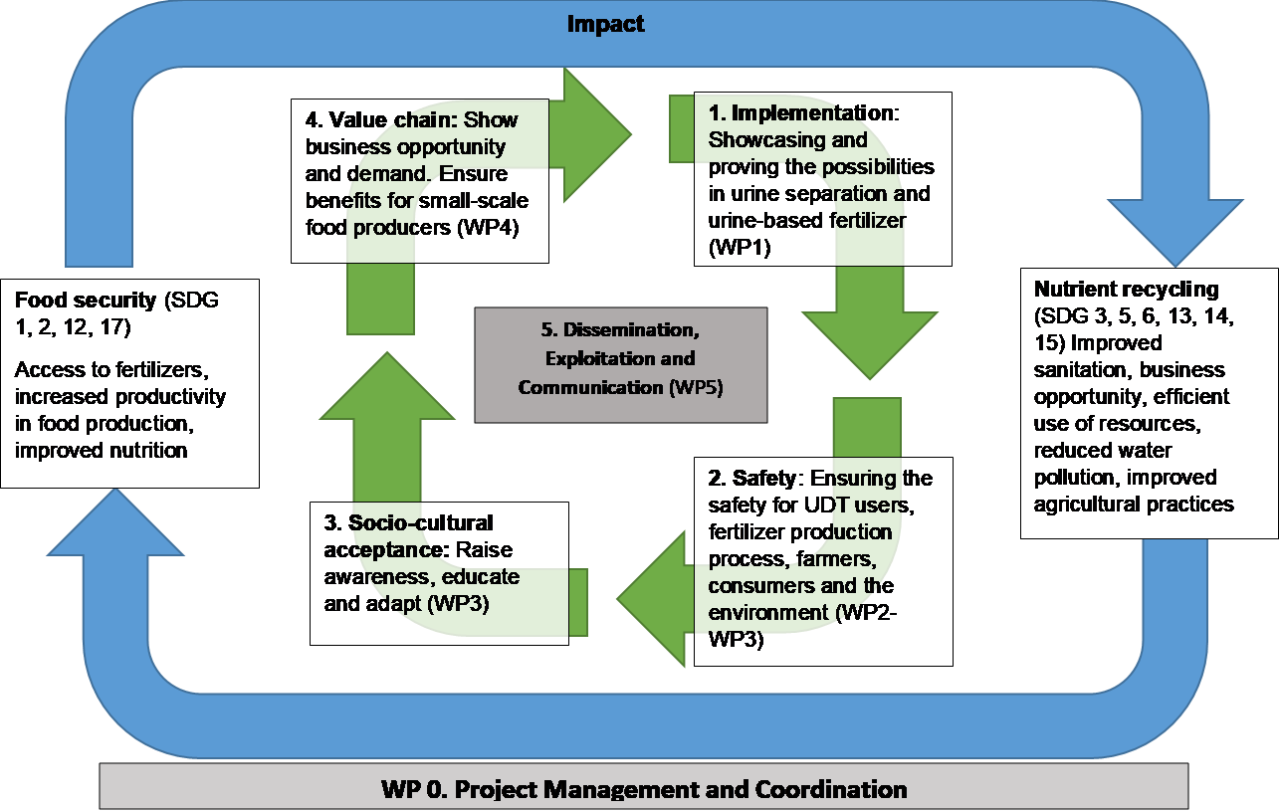 Active
Last updated: 02.08.2023
End: jun 2027
Start: jul 2023
Human urine contains essential nutrients (e.g., nitrogen and phosphorus) required for plant growth. Hence, urine can serve as a "free" and locally available nutrient source. Successful, low-cost urine-diverting toilets (UDTs) that separately collect urine have been developed in Scandinavia and in Europe and are being manufactured at large-scale in Africa.
| | |
| --- | --- |
| Status | Active |
| Start - end date | 01.07.2023 - 30.06.2027 |
| Project manager | Divina Gracia P. Rodriguez |
| Division | Division of Food Production and Society |
| Department | Economics and Society |
| Partners | The FoodSecURe team is composed of partners from NIBIO, NMBU, SLU, NorgesVel, Bahir-Dar University (BDU), and Amhara Regional Agricultural Research Institute. BDU office of the Healthy Food Africa project, Bahir Dar City Water Supply and Sewerage Authority, and the Bureau of Water and Energy are key stakeholders and members of the Advisory Committee of the project from the Ethiopian side.  |
| Total budget | 10770000 |
| Funding source | Research Council of Norway |
There exist many barriers to urine recycling at scale. The important initial steps for increased use of urine as a fertilizer (UBF) are to understand the technical, socio-cultural, economic, institutional, and ecological aspects that affect large-scale adoption of UDTs, urine treatment technologies, and UBFs; provide evidence-based data that shows urine is safe in terms of heavy metals, pathogens, and organic micropollutants; and identify optimal combinations strategies to sustain adoption in a long time.
FoodSecURe will be implemented and utilize the existing UDTs in communal public areas in Bahir-Dar, Ethiopia. Due to a lack of technology and limited awareness of users, government, and institutions, these UDTs were misused, and no UBF has been produced from the UDTs. The project will be conducted through 6 work packages (WPs): WP0 focuses on project management. WPs 1-4 focus on identifying the barriers to the adoption of urine recycling based on technology (WP1), health (WP2), socio-culture and environment (WP3), and economics and institutions (WP4). The dissemination, exploitation, and communication activities are in WP5. The various tasks are implemented through a multi-disciplinary and multi-actor approach by scientists specializing in social sciences, business management, agronomy, parasitology, environmental engineering, environmental science, and soil science.