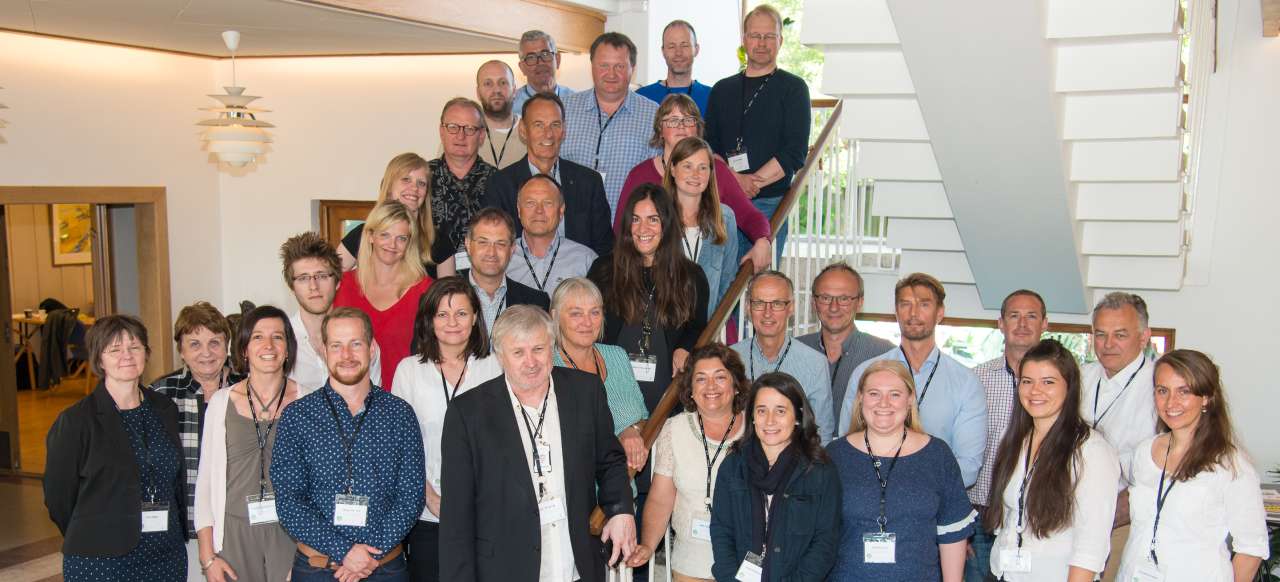 WP1: Screening, Selecting and Bioprocessing of Microalgae
Project leader: Maria Barbosa, Wageningen University and Research
Objective: Develop three microalgal production chains for algal biomass rich in starch, protein and ω-3 fatty acids as ingredients in food, feed and beverage products.

WP2: Microalgae biomass production at pilot scale
Project leader: Dorinde Kleinegris, NORCE
Objective: Upscale the production procedures for the candidate strains developed at lab scale to pilot scale, and to supply the right quality and quantity of biomass for product application trials.
WP3: Pre-processing and characterisation of microalgae culture biomass and products
Prosject leader: Katerina Kousoulaki, Nofima AS
Objective: Develop application-specific downstream processing protocols for wet cultures of three microalgae strains. Stabilize microalgae biomass/components and evaluate their physiochemical properties.

WP4: Potential for use of protein-rich algal biomass - Bread as case study
Project leader: Anne Kjersti Uhlen, Nofima AS
Objective: Explore the potential to increase nutritional quality of bread by addition of microalgae biomass, while maintaining a high sensory quality of bread.
WP5: Potential for use of starch-rich algal biomass -Fermented beverage products as a case study
Project leader: Kari Skjånes, NIBIO
Objective: Demonstrate the potential of selected, optimized and processed microalgae as sources of starch and starch-degrading enzymes, especially for food and beverage purposes.
WP6: Potential for use of lipid rich algal biomass: Fish as a case study
Project leader: Kiron Viswanath, Nord University
Objective: Demonstrate the suitability of microalgae as a source of PUFAs, protein, antioxidants and pigments in salmon feeds, enabling the production of high-value seafood.
WP7: End product evaluation - Food safety
Project leader: Kai Kristoffer Lie, Havforskningsinstituttet
Objective: Though some algal strains in the project are approved by EFSA for food use, the specific cultivation conditions may reveal new properties. A food safety and security evaluation, including screening of contaminants and evaluation of healthy substances, will be conducted on all strains and end-products.

WP8: LCA, Economics and Consumer Perspectives
Project leader: Nils-Arne Ekerhovd, Centre for Applied Research at Norwegian School of Economics (SNF)
Objective: Explore consumer attitudes and purchase intentions towards microalgae products. Evaluate economic effects of marketing new microalgae products by assessing costs and benefits from both private and social perspectives. Evaluate the environmental effects from microalgae cultivation at pilot scale.

WP9: Dissemination and multi-actor approach in a microalgae framework
Project leader: Kristian Fuglseth, Volda University College

Objective: To secure concrete collaboration by integrating researchers and members of the refrerence group throughout the project period. To implement a Production Plan and a strategy for optimal exploitation and dissemination of project results.

WP10: Project Management, Ouality Control and Risk Management
Project leader: Stig A. Borgvang, NIBIO
Objective: To ensure a timely and efficient implementation of the A2F project. To use innovative coordination and communication activities to enhance the benefits of knowledge and expertise gained by the integration of research, commercial interests and public administration. To enhance partner co-operation and benefits to the project by managing knowledge and expertise sharing through strategically selected staff mobility activities.
Contacts