Safeguarding waterways near new roads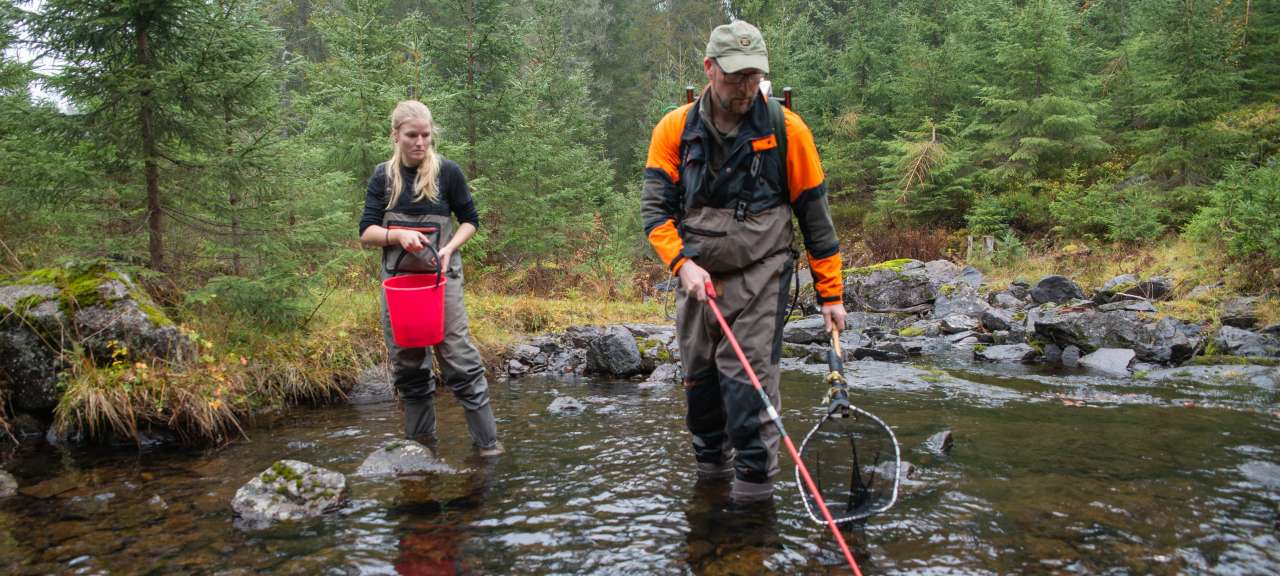 When new roads and train tracks are built, efforts have to be made to protect the ecosystems of waterways nearby.
In 2018, NIBIO carried out preliminary research on waterways that could be affected by the new E16 route, on the stretch between Bjørum and Skaret,
primarily in the municipalities of Bærum and Hole. NIBIO will monitor the stretch before, during, and after the construction phase.
One of the methods being used is electrofishing, a common practice in nature management. The fish are briefly paralyzed using an electric current, then
counted, measured, and released. The purpose of this is to record how many fish inhabit a given waterway and assess their living conditions.
NIBIO also carries out numerous other tests. Project manager Roger Roseth of NIBIO explains:
"We have, for instance, a data buoy in Holsfjorden, a highly important source of drinking water which will soon supply all of Bærum and Oslo.
The data buoy can take automatic measurements of, for example, the amount of algae (chlorophyll A) and particles (turbidity) in the water.
"We also have automatic gauges in two waterways, one of which has a very interesting new sensor for optical nitrate measurement. There is a high concentration of nitrate in the water that came from the blast area, so that is important to keep tabs on. We also take a lot of biological samples of fish, algae, bottom-dwelling organisms, and water," says Roseth.
The research will evaluate the ecological and chemical conditions based on the requirements of the Water Regulation (Regulation on a Framework for
Water Management), Norway's implementation of the EU Water Framework Directive.
NIBIO monitors biology and water quality at the sites of many transportation projects. Other sites currently being monitored are: E18 Lysaker–Ramstad, E18 Retvet–Vinterbro, E16 Eggemoen–Olum, E18 Bommestad–Sky, with local road system Larvik, Rv4 Roa–Lygnebakken, Rv4 Gran–Jaren and Follobanen and the Nykirke–Barkåker stretch of the new double-track railway line. NIBIO also monitors the environmental conditions of rivers that run from airports such as Torp international airport in Sandefjord.
Contacts