How to tackle dollar spot disease on golf courses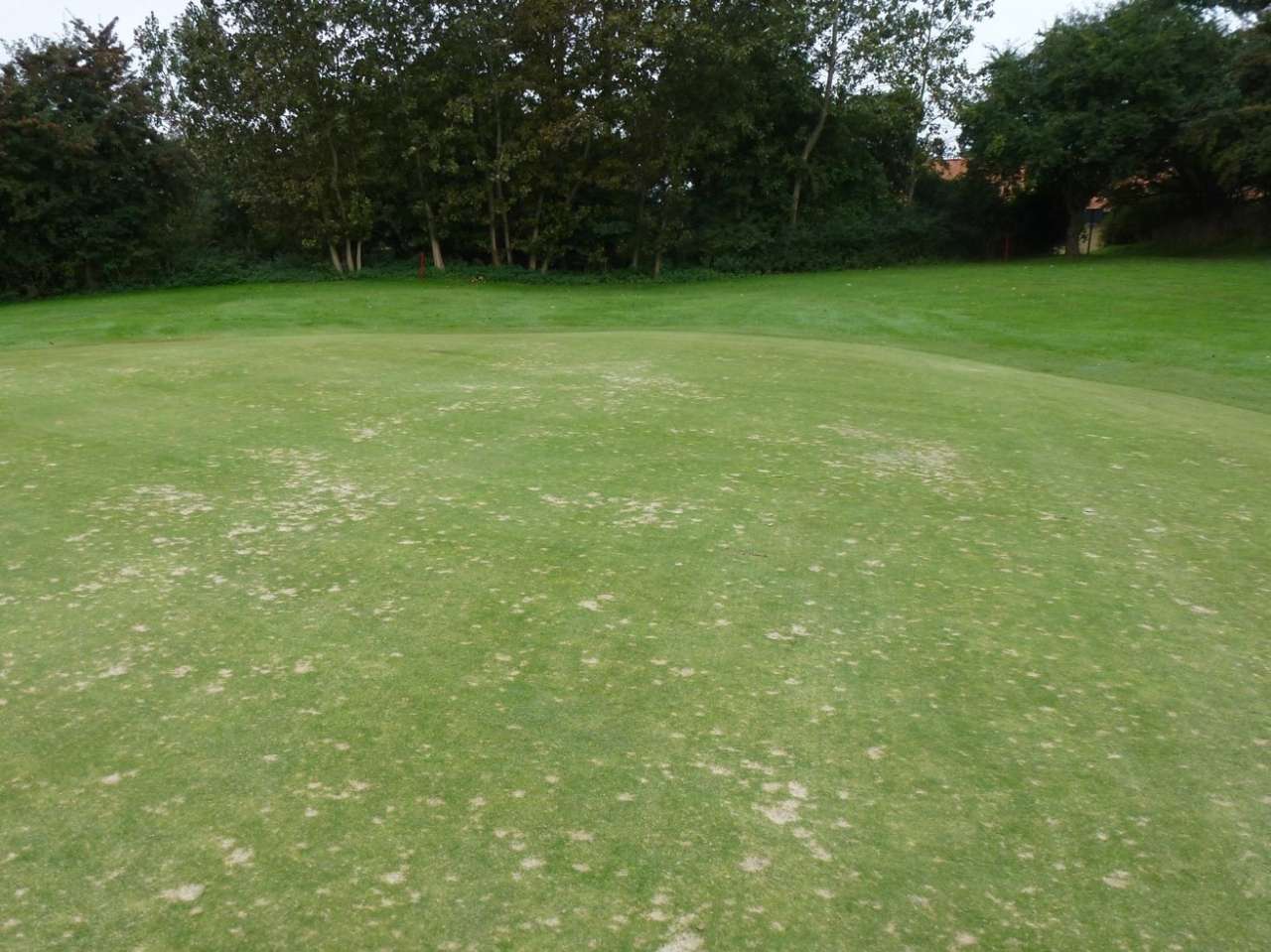 Dollar spot is a foliar turfgrass disease that leads to uneven playing surfaces on golf courses around the world. Photo: Karin Normann.
Dollar spot is a foliar turfgrass disease that leads to uneven playing surfaces on golf courses around the world. It is a fungal disease that appears like small, yellow and round spots, the size of American dollar coins. But this is by no means a disease that leads to higher income. In Scandinavia, dollar spot is known to have caused up to 70-80% dead turf on affected greens and fairways.
Dollar spot is a fungal turfgrass disease that is caused by the Clarireedia species. Golf greens affected by dollar spot get an uneven playing surface and are repaired very slowly. This significantly reduces playing quality. Dollar spot is a newly recorded disease in Scandinavia. Having initially been documented in Norway in 2013 and in Sweden in 2014, it is now known to exist on more than 20 golf courses in the Nordic countries. It is a common disease of turfgrasses in Australia, North- and Central America, and continental Europe. Dollar spot is the most economically important disease of amenity turf in the United States.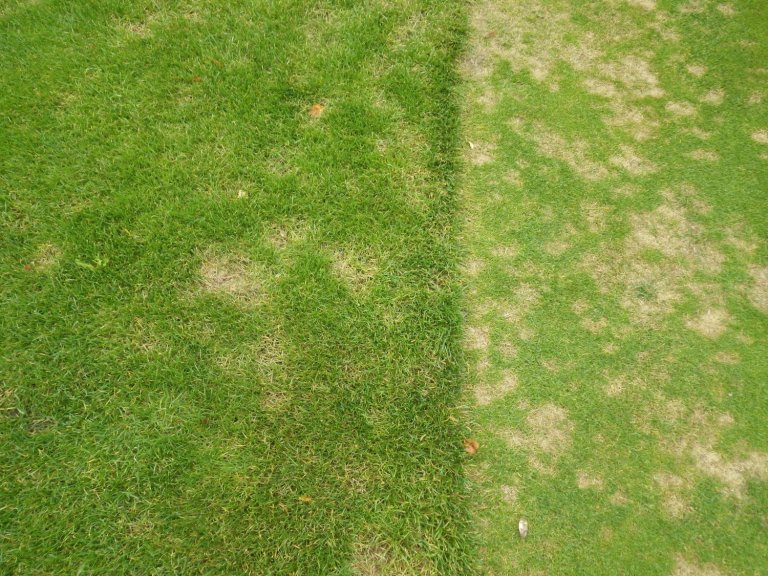 About dollar spot
From previous studies in the USA where dollar spot has been studied for at least 50 years, it is known that the disease can become more severe with low nitrogen (N) fertilizer and higher mowing height.
"Dollar sport is a stress related disease that is favoured on dry soil with a moist turf canopy. To achieve good playing quality on golf greens they are maintained with low mowing height, less water, and low input of nitrogen fertiliser, in order to keep the grass low," says Tatsiana Espevig, project leader and researcher in NIBIO.
Espevig explains that its appearance is related to local conditions on the field.
"The fungus does not produce spores; hence it is not spread by the wind. However, it can spread locally via transfer of infected grass from one area to another. Therefore it can be important to clean shoes, playing equipment and machines after maintaining or playing on an infected field."
After being documented in Scandinavia, dollar spot disease has been in the focus of research through projects funded by Scandinavian Turfgrass and Environment Research Foundation (STERF) and other actors. In the following we will take a closer look at the results from the four-year project «Risk assessment, management and control of dollar spot caused by Clarireedia spp. on Scandinavian golf courses". Trials were carried out in Norway, Sweden and Denmark in the period 2017-2020.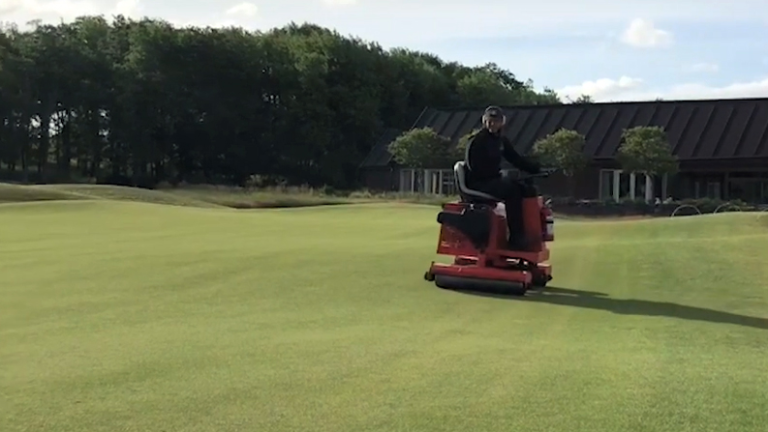 Rolling 3-4 times per week reduces dollar spot
Rolling is a machine that is used to even out the golf course and get the ball rolling fast and easy, and it can be an alternative to cutting the grass and avoid stressing the green. It is known that daily rolling reduces dollar spot severity on golf greens as it disperses concentrated guttation water and contributes to increase in soil moisture. But what is the most efficient frequency for rolling on golf greens in Scandinavia?
During two seasons research greens at Vallda Golf and Country Club in Sweden, and Roskilde Gold Club in Denmark, were rolled with different intervals.
Results from Vallda show an up to 95% reduction of dollar spot on fescue green when rolled four times per week and 60% reduction when rolling twice per week. In Roskilde Gold Club in Denmark rolling four times per week and twice per week reduced dollar spot 54% and 37%, respectively.
"Thus, rolling 3-4 times per week can be appropriate for the reduction of dollar spot. The importance of lightweight green rolling is still underestimated and in particular with respect to dollar spot," Espevig says.
However, more research is needed seeing as the long-term effect of rolling has not been studied in this project. In the long term, rolling could have implications on for example the botanical composition of grass species and/or density of golf green.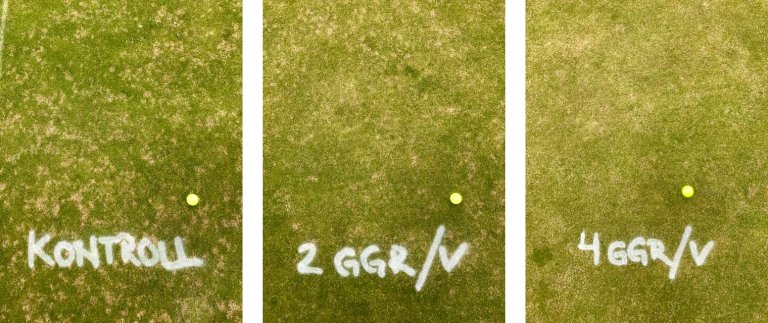 More nitrogen reduced dollar spot, but fuelled growth of another fungus
Another question is whether higher levels of nitrogen can reduce the incidences of dollar spot. In an experiment at Kävlinge Golf club in Sweden, dollar spot was reduced by 24% with increase in nitrogen (N) on creeping bentgrass/annual bluegrass golf green. However, the increased N-rate lead to a higher degree of another disease, microdochium patch, from 14% to 30%. Thus, it is impossible to draw unambiguous conclusions about the advisability of using increased doses of N to fight dollar spot on golf greens which are exposed to microdochium patch during winter time.
"I think we need to keep searching for the right nitrogen balance, combined with more resistant turfgrass species. Thus, more research is needed," Espevig says.
Resistant turfgrass species and cultivars to Clarireedia isolates of different origin
Dollar spot affects all turfgrasses, but the resistance to dollar spot varies among turfgrass species and cultivars. One question is whether the different Nordic isolates are equally aggressive to American or British isolates, and whether there are any differences among the Nordic isolates.
20 grass species and cultivars were tested in the laboratory at NIBIO Landvik for resistance to 10 different isolates of Clarireedia species, the fungus which cause dollar spot disease. The isolates were from Norway, Denmark, Sweden, the United Kingdom, Canada and the United States. The most aggressive isolates in the study included one from the UK, one from USA and one from Canada. The weakest isolate comes from Norway.
"The interaction between fungus and plants are not the same in in vitro trials as in field trials, but the results we got were relatively equal to field trials carried out in the United States. We still cannot conclude that aggressiveness in Clarireedia spp. is species-specific, because such a study requires more isolates of each Clarireedia species. However, with respect of choice of turfgrass species and cultivars for use on Scandinavian golf courses with dollar spot pressure, we recommend using the more resistant cultivars, especially of Chewings fescue", says Espevig.
May survive colder temperatures than previously expected
In USA, disease development is encouraged by an air temperature of up to 30°C, and high relative humidity. As of now, no information is available on the environmental conditions that favour dollar spot disease in Scandinavia. The recent study intended to assess risk of the pathogen spreading in Scandinavia, therefore isolates of Clarireedia sp. were tested in lab, to examine how high and low temperatures they would survive. The optimal temperature for growth for all Scandinavian isolates in the trial was 24°C, while isolates from USA had 16°C and 24°C as optimal temperature. When exposed to temperatures of 0°C and 40°C, all isolates stopped growing, and after three weeks at 40°C, all isolates died. Surprisingly some of the isolates were more tolerant against low temperatures. After three weeks at 0°C, Scandinavian and British isolates had a reduced growth by 7-36% and 23-38%, respectively. At the same time isolates from USA and Norway were doing just fine, now with reduced growth.
"This indicates that some isolates may survive milder Scandinavian winters," Espevig says.
Contacts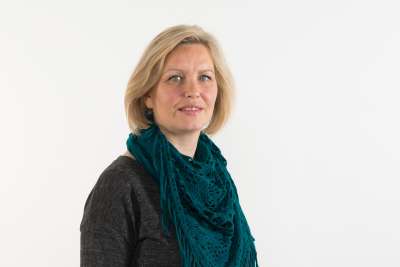 Facts about dollar spot in Scandinavia
At least five species in the fungal genus Clarireedia cause dollar spot disease. The pathogen was formerly known as Sclerotinia homoeocarpa F. T. Bennett. At least two species of Clarireedia have been documented in Scandinavia: C. jacksonii and an unnamed species of Clarireedia.
The first STERF project started in 2014. That summer nearly 30 samples of turf with dollar spot symptoms were collected in Sweden, Denmark and Norway, and presence of dollar spot fungus was confirmed on seven Swedish, four Danish and one Norwegian golf course. The molecular analysis showed that the isolates could be divided into two genetic groups (with similarity between the two groups 97.6 %). Group 1 consisted of all Danish and most of the Swedish isolates. The first group was identical to C. jacksonii which was previously reported as a 'common type' from the East and Midwest in the United States. The second group contained the Norwegian isolate and two Swedish isolates, this second group clearly constituted of a distinct Clarireedia species which will be identified in a new STERF IPM-GOLF project.
There are no available fungicides with potential to control dollar spot in the Nordic countries, except for Sweden. According to EU-Directive 2009/128 EU on 'establishing a framework on sustainable use of pesticides', the management and control of any pests has to follow IPM (integrated pest management) principles. Regarding dollar spot, no research has been conducted in the Nordic environments on any control measures. Effective non-chemical measures for control of this disease are needed.
This work was conducted in collaboration with Research Professor May Bente Bruberg at NIBIO's Division of Biotechnology and Plant Health.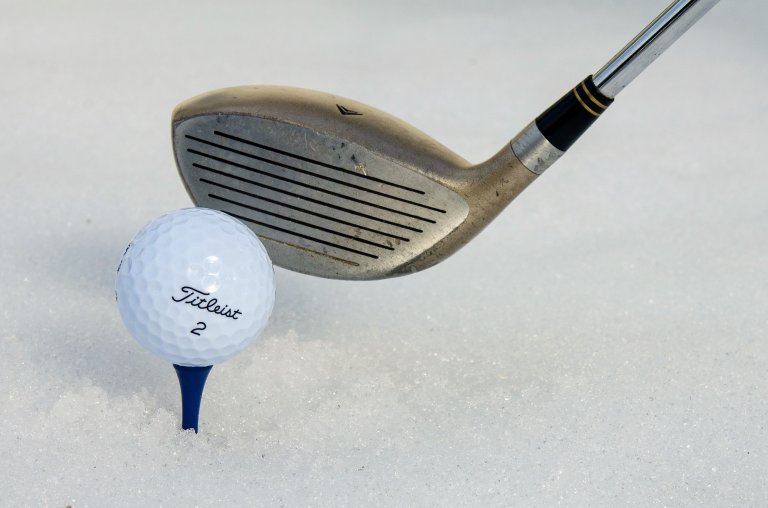 Project participants
Tatsiana Espevig, NIBIO (Norway)
Kristine Sundsdal, NIBIO (Norway)
Trond O. Pettersen, NIBIO (Norway)
Trygve S. Aamlid, NIBIO (Norway)
Karin Normann, Asbjørn Nyholt ApS (Denmark)
Marina Usoltseva, Botaniska Analysgruppen (Sweden)
Stefan Nilsson, Vallda Golf & Country Club (during the project) and now Svenska golfforbundet (Sweden)
Nick Bosholdt, Roskilde GC (Denmark)
Anders Olofsson, Kävlinge GC (Sweden)
Jo Anne Crouch, U.S. Department of Agriculture (USA)
Kate Entwistle, The Turf Disease Centre (UK)
This project was financed by Scandinavian Turfgrass and Environment Research Foundation (STERF)