Division of Biotechnology and Plant Health
PlantVac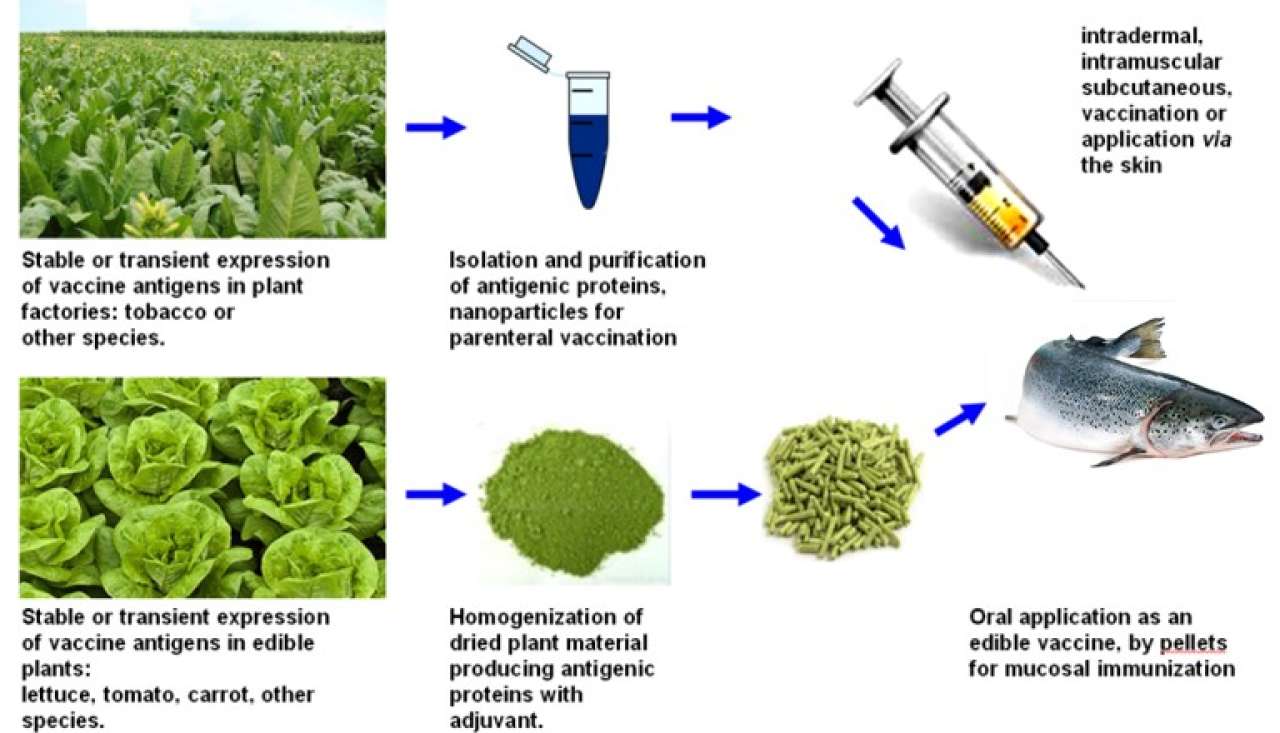 Finished
Last updated: 01.12.2018
End: dec 2018
Start: jan 2015
Sustainable management of aquaculture fish health through the
development of low cost plant-derived vaccines, using vaccines against salmon pancreas disease and viral haemorrhagic septicaemia as case studies
| | |
| --- | --- |
| Start - end date | 01.01.2015 - 31.12.2018 |
| Project manager | Jihong Liu Clarke |
| Division | Division of Biotechnology and Plant Health |
| Department | Viruses, Bacteria and Nematodes in Forestry, Agriculture and Horticulture |
| Partners | 1) Norwegian Veterinary Institute. 2) John Innes Center, UK. 3) VTT, Finland |
| Total budget | 1, 011,957.00 EUR. 4,500,000.00 NOK for Norwegian partners |
| Funding source | ERA-NET through national funding agency. Research Council of Norway |
The aquaculture industry is the fastest growing food-producing sector worldwide. To achieve a sustainable aquaculture food-fish production and manage the aquaculture fish health, vaccination has been found to be an effective method for increasing economic output and improving animal welfare. It has also permitted the development of more sustainable fish farming with reduced use of antibiotics and chemicals. Since viral diseases pose a serious threat to aquacultures worldwide, this lack of preventive measures has extensive negative consequences. For instance, pancreas disease (PD), a viral fish disease caused by the Salmonid alphavirus (SAV) has a significant impact on Norwegian salmonid aquaculture as well as in other European countries e.g. UK.
Another fish viral disease, viral haemorrhagic septicaemia (VHS), which can affect most species of salmonid fish reared in fresh water or sea water, is caused by the VHS virus. The economic loss caused by VHSV on farmed rainbow trout is a challenging task in Finnish aquaculture. Outbreaks of VHS have also occurred in Norway and the UK. VHSV has been detected in marine fish, and is known to have high mutation rate and adaptability. Thus, there is an urgent need to develop low-cost fish vaccines to assist sustainable aquaculture production in Europe.
Thus, we three Europeans partners (Norway, UK and Finland) aim to advance our existing plant-based recombinant protein production technologies to establish a transnational plant-based low cost vaccine production platform to facilitate the future production of fish vaccines in large quantity at low cost. We have selected PD and VHS as two cases for proof-of-principle and will test our three different tobacco-production technologies (i.e. transient expression by producing virus like particles, chloroplast genetic engineering and tobacco BY-2 cell line platform). By comparing the three systems in terms of total production costs, scaling-up potential and timeline by the end of the project period, the PlantVac project can provide a technology based plant production platform for future production of PD and VHS vaccines as well as other fish vaccines.
The PlantVac consortium consists of experienced scientists with the required expertise on three of the proposed plant production systems, fish health, veterinary immunology and economics. The proposed project is highly relevant for all the participating countries and has been approved.
Publications in the project
Abstract
Den tradisjonelle rullingsen er ut. Nå skal vi bruke tobakken til både vaksiner og miljøvennlig drivstoff. En ny næring for norske bønder, foreslår forsker.